Yuichi Asami
Jump to navigation
Jump to search
U1 redirects here. For the playable character in DanceDanceRevolution 5thMIX, please see U1 (character).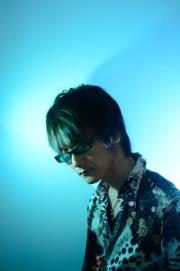 Yuichi Asami
Artist Information
Profile
Yuichi Asami is known as one of the first KONAMI artists for the DanceDanceRevolution series, along with Naoki Maeda. Yuichi worked mainly as a CS artist for the series (until DanceDanceRevolution SuperNOVA), and he also directed some of the CS titles, like MARIO MIX and the HOTTEST PARTY series. Though Yuichi remained as a DanceDanceRevolution exclusive artist for many years, he started composing songs for other BEMANI series like jubeat and beatmania IIDX.
His sound is very variated but always ranging inside the electronic genres. He's known for doing a lot of house, rave, and trance with a couple of speedcore and hardcore tracks. Lately, he's ventured into EDM-based genres as well. He's also a proficient DJ and turntablist.
Besides his works for BEMANI, he also composed music for games like NBA POWER DUNKERS, RUMBLE ROSES and Police 911.
Following the end of CS DanceDanceRevolution games, Yuichi started sound directing the arcade DanceDanceRevolution series beginning with DanceDanceRevolution X3 VS 2ndMIX, sharing sound directing duties with TAG. He left after X3, though, to serve as the sound director of the ミライダガッキ FutureTomTom BEMANI series until its end on July 31st, 2015. He returned to the DanceDanceRevolution team near the end of DanceDanceRevolution (2014).
As of DanceDanceRevolution A, Yuichi is once more the sound director of the DanceDanceRevolution series.
Trivia
His main alias, U1, reads as "yu-ichi".
Yuichi's 2MB alias refers to the amount of RAM found in Sony's PlayStation gaming console.
Yuichi's NPD3's alias is a reference to the NBA POWER DUNKERS 3 game, which he composed music for.
Yuichi currently has the third longest career of any in-house BEMANI artist, performing music for BEMANI since early April 1999, only two months behind Mutsuhiko Izumi and dj TAKA.
Aliases
U1-ASAMi
U1
NPD3
2MB
2.1MB
U1 overground
CLUB SPICE
Chang ma (member of, with "AQUI LA JAMAOKA")
U1ミライダガッキ連
U1 undefined behavior
U1 High-Speed
Zodiac Fall
Musical Cosmology
U1 unplugged
BEMANI Songs