BEFREE
BEFREE
Song Information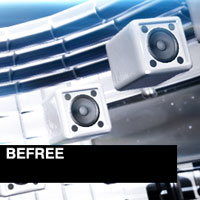 Artist: Des-ROW Ft. Vanilla Ice
Composition: Des-ROW
Arrangement: ?
Lyrics/Vocals: Vanilla Ice
BPM: 120
Length: 1:49
First Music Game Appearance: BOOM BOOM DANCE / Rhythm Party
Other Music Game Appearances: None.
Lyrics
None yet.
Song Connections / Remixes
BEFREE is an arrangement with additional lyrics of S.N.A.F.U. by Vanilla Ice featuring Jimmy Pop Ali, from the album Hard to Swallow.
Trivia
None.
Difficulty & Notecounts
DanceEvolution difficulty rated from 1 to 5.
Game
Level
Light
Standard
Extreme
Master
Notecounts
?
?
?
?
BOOM BOOM DANCE / Rhythm Party
2
This article is a stub. You can help complete this page by filling in missing information and/or by correcting any errors.