NO CRIME (SHANADOO)
Jump to navigation
Jump to search
This page is for the SHANADOO cover of NO CRIME. For the original version of the song, please see NO CRIME.
NO CRIME
Song Information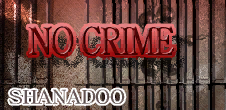 Artist: SHANADOO
Composition: NAOKI MAEDA
Arrangement: NAOKI MAEDA, Darwin
Lyrics: MINA
Vocals: SHANADOO
Producer: DJ Silver
BPM: 160
Length: 1:41
First Music Game Appearance: ダンスダンスレボリューション フルフル♪パーティー
Other Music Game Appearances: None.
Lyrics
Game Size
Japanese
今までずっと嘘をついて過ごして来てた
退屈な日々に一つの光が差し込んだ

本当はずっと心の声で問いかけてた

あなたと出逢い
あなたの声で
私に触れ始まったの

ずっと隠してきたこと
今あなたに伝えて
震えるその肩を抱き
守ってあげるよ

たとえ罪を犯したとしても
ただあなたのためだけに
生きることしかできない
もしも願い叶うなら
この身ごと燃え尽きるくらいに
抱きしめてほしい今
あなたに・・・

いつか見た海の
遠くで輝く一つの光が
今も変わらずに輝き続ける
私もずっと輝いていたい
あなたのために・・・

she can making happen
Romaji
ima made zutto uso wo tsuite sugoshite kiteta
taikutsu na hibi ni hitotsu no hikari ga sashikonda

hontou wa zutto kokoro no koe de toikaketeta

anata to deai
anata no koe de
watashi ni furehajimatta no

zutto kakushitekita koto
ima anata ni tsutaete
furueru sono kata wo idaki
mamotte ageru yo

tatoe tsumi wo okashita toshite mo
tada anata no tame dake ni
ikiru koto shika dekinai
moshimo negaikanau nara
kono mi goto moetsukiru kurai ni
dakishimete hoshii ima
anata ni...

itsuka mita umi no
tooku de kagayaku hitotsu no hikari ga
ima mo kawarazu ni kagayakitsuzukeru
watashi mo zutto kagayaiteitai
anata no tame ni...

she can making happen
Long Version
Japanese
---
今までずっと嘘をついて過ごし来てた
退屈な日々に一つの光が差し込んだ

本当はずっと心の声で問いかけてた

あなたと出逢い
あなたの声で
私に触れ始まったの

ずっと隠してきたこと
今あなたに伝えて
震えるその肩を抱き
守ってあげるよ

★たとえ罪を犯したとしても
ただあなたのためだけに
生きることしかできない
もしも願い叶うなら
この身ごと燃え尽きるくらいに
抱きしめてはしい今
あなたに・・・

☆いつか見た海の
遠くで輝く一つの光が
今も変わらずに輝き続ける
私もずっと輝いていたい
あなたのために・・・

she can making happen
(she can making happen)

たとえ罪を犯したとしても
ただあなたの偽だけに戦き続けたいから
もしも願い叶うなら
この身ごと減るくらいに
熱くなりたい今
あなたに・・・

いつか見た海の
遠くで輝く一つの光が
あなたと私を照らしき続ける
私もずっと守り続けたい
あなたのことを・・・

★Repeat
☆Repeat

守り続けたい
いつまでもずっといつもいつの日も
あなたのために・・・
Song Connections / Remixes
NO CRIME is a re-arranged cover of NΦ CRIME, from beatmania IIDX 16 EMPRESS.
A long version of NO CRIME arranged by Cyril, titled NO CRIME (Full Version), can be found on the DanceDanceRevolution X&フルフル♪パーティー Original Soundtrack.
Trivia
SHANADOO was an eurodance girl group produced by David Brandes, of E-ROTIC, Vanilla Ninja, and MISSING HEART fame.
NO CRIME became a regular song in SHANADOO's live sets.
NO CRIME and B4U (Rising Sun mix) are the only KONAMI original songs that remain exclusive to Japanese DanceDanceRevolution Wii titles.
Song Production Information
NAOKI
A J-POP number with a melodious opening and an intense development.
Difficulty & Notecounts
DanceDanceRevolution difficulty rated from 1 to 10 from DDRMAX2 to SuperNOVA2.
Game
Single
Double
Beginner
Basic
Difficult
Expert
Challenge
Basic
Difficult
Expert
Challenge
Notecounts / Freeze Arrows / Shock Arrows
105 / 0
148 / 10
245 / 10
375 / 26
- / - / -
- / -
- / -
- / -
- / - / -
ダンスダンスレボリューション フルフル♪パーティー
2
4
6
8
-
-
-
-
-