BEAMS
Jump to navigation
Jump to search
BEAMS
Song Information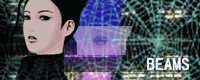 Composition/Lyrics: Kiyoharu
Arrangement/Vocals/Guitars/Bass/Other Instruments & Drum Programming: Captain Rock
Recording Engineer: Yuei Uematsu
Original Artist: 黒夢
Album: BEAMS (1995)
BPM: 179
Length: 1:26
Movie: mito (illustrations by のり)
First Music Game Appearance: GUITARFREAKS 9thMIX & drummania 8thMIX
Other Music Game Appearances:
Lyrics
Japanese
May Be 突然の出逢い
Same Place 同じSpeedで
Day Break 慣れた眠り方
Gazing 体中ずっと

新しいEmerald とても 似合う
昨日より 綺麗だね そう言える

鮮やかに色づいた 君の声
僕だけに届け 永遠に

HIGH BEAMS FOR ME
HIGH BEAMS FROM YOU
HIGH BEAMS FOR ME
Romaji
May Be totsuzen no deai
Same Place onaji Speed de
Day Break nareta nemurikata
Gazing karadajuu zutto

atarashii Emerald totemo niau
kinou yori kireida ne sou ieru

azayaka ni irozuita kimi no koe
boku dake ni todoke eien ni

HIGH BEAMS FOR ME
HIGH BEAMS FROM YOU
HIGH BEAMS FOR ME
Song Connections / Remixes
None.
Trivia
BEAMS is Kuroyume's fifth single. The song reached as high as #6 on Japan's Oricon charts.
BEAMS later appeared on their fourth album FAKE STAR ~I'M JUST A JAPANESE FAKE ROCKER~ on May 1996.
BEAMS was used in commercials for maxell's PO'z, a type of cassette tape.
BEAMS is one of very few licenses in GuitarFreaks & DrumMania removed after a single arcade game.
Song Production Information
None.
Video Production Information
None.
Difficulty & Notecounts
GF/DM difficulty rated from 1 to 99. (Ratings obtained from BEMANIWiki 2nd.)
Game
Drum
Guitar
Bass
Open
Basic
Advanced
Extreme
Basic
Advanced
Extreme
Basic
Advanced
Extreme
Basic
Advanced
Extreme
Notecounts
183
426
699
179
211
211
440
440
-
179
211
211
GF9/dm8
14
27
37
14
25
38
25
32
-
16
31
40
GF/DM MASTERPIECE SILVER
14
27
37
14
25
38
25
32
-
16
31
40