Chie Nakamaru
Jump to navigation
Jump to search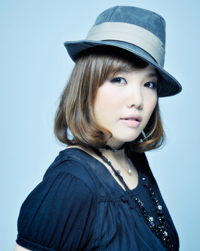 Chie Nakamaru
Artist Information
Name: Chie Nakamaru (中丸智絵)
Birthdate: December 20, 1978
Blood Type: A
Hobbies: Dog (Maltese)
Website: maoココロのよりどころ
Profile
Chie Nakamaru, also known as mao, is a commissioned vocalist who started providing vocals for the GuitarFreaks & DrumMania series, but later also performed for other BEMANI series. Within BEMANI, Chie typically performed vocals for songs originating from the SPIN FEVER redemption-game series, composed by Tatsuya Iyama.
Prior to Tatsuya Iyama joining KONAMI, Chie had a duo named Moon Beams with Tatsuya, performing rhythm and blues songs.
Outside of BEMANI, Chie is the vocalist and lyricist of the duo cocua with Hijiri Anze (安瀬聖), and is affiliated with the music company Peak A Soul+, whose website may be found here.
Trivia
Chie released her first album, toddle, on July 7th, 2010, featuring several of her previous gaming works.
Chie has also appeared in CAPCOM's music game series CROSSxBEATS.
Aliases
BEMANI Songs
Discography
Albums (mao)
toddle (2010)
FOReST (2012)
オトノトビラ (2013)
キミが恋する物語 (2015)
dialog (2016)
voice (2018)
Albums (Duca)
Duca Works Best (2012)
Duca LiveAlive Forever (2013)
Duca Works Best 2 (2014)
Duca LiveAlive ever after (2015)
Duca Works Best 3 (2016)
Duca LiveAlive Regression (2018)
Duca Works 15th Anniversary BEST (2018)
Albums (cocua)
EP
夢をかなえてドラえもん (2007, with Doraemon (CV: Wasabi Mizuta))
サンキュ! はI LOVE YOU (2009, with Kanako Miyamoto)
君ノ記憶 (2010)
もしも☆パラダイス! (2010, with Lovelin (CV: Kei Shindo))
茜空に願ふ (2010)
桜花の如く (2012)
DA BI DA・GO! (2012, with Shoko Haida and Moji Train (CV: Robert Waterman))
花のあとさき (2012)