Motto
Jump to navigation
Jump to search
mottö
Song Information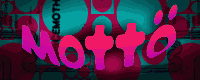 Composition: TAKUYA
Lyrics: Tack, Yukky
Vocals: Kumiko Ishizaka
Guitar: Kozo Nakamura
Bass: Yoshihiko Koezuka
Other Instruments & Programming: Kazuhiro Senoo
Recording Engineer: Yuei Uematsu
Thanks to: Mutsuhiko Izumi
Original Artist: JUDY AND MARY
Album: mottö (2000)
BPM: 198
Length: 1:27
Movie: Yurina
First Music Game Appearance: GUITARFREAKS 6thMIX & drummania 5thMIX
Other Music Game Appearances: None.
Lyrics
Japanese
イミテイションなんて 蹴飛ばして
この痛みは ナイナイふりして
最後に笑う人は 誰でしょう?
急がば廻れ

僕は言いました「生きることに酷く疲れました。」
ハードルは 低くしておくものよ 覚えててネー

見たくないんだ 本当は
あたしはいつも 哀しいのよ
辛いニュースばかり 我慢できない

愛をもっと 自由をもっと 思い通りになんていかないものだわ
今はもっと 生きるmotto 歌いながらみつけられそうだね
あせらないで この夜を もっと 愛してね
Romaji
IMITATION nante ketobashite
kono itami wa nainai furi shite
saigo ni warau hito wa dare deshou?
isogaba maware

goku wa iimashita "ikiru koto ni hidoku tsukaremashita."
HURDLE wa hikuku shiteoku mono yo oboetete ne-

mitakunainda hontou wa
atashi wa itsumo kanashii no yo
tsurai NEWS bakari gaman dekinai

ai wo motto jiyuu wo motto omoidoori nante ikanai mono dawa
ima wa motto ikiru motto utainagara mitsukeraresou da ne
aseranaide kono yoru wo motto aishite ne
English
Kick away imitations
Pretend there's none, none of this pain
Who'll have the last laugh?
Slow and steady wins the race

I said "I'm horribly tired of life"
Learn how to make your hurdles lower

I don't want to see the truth
I'm always sad
It's all painful news, I can't take it

More love, more freedom, things don't go to plan
Now I'll live more, as I sing more, I think I can find it
Don't panic, love this night more
Song Connections / Remixes
An instrumental version of mottö can be found in PercussionFreaks 5thMIX.
Trivia
mottö marks vocalist Kumiko Ishizawa's debut in BEMANI.
mottö is JUDY AND MARY's 20th single. The song later appeared on their first album WARP in July 2001.
mottö reached a peak of #8 on the weekly Oricon charts in Japan. This was one of the group's last singles before breaking up in 2001.
Song Production Information
None.
Video Production Information
None.
Difficulty & Notecounts
GF/DM difficulty rated from 1 to 99. (Ratings obtained from the KONAMI official game websites and BEMANIWiki 2nd.)
Game
Drum
Guitar
Bass
Open
Basic
Advanced
Extreme
Basic
Advanced
Extreme
Basic
Advanced
Extreme
Basic
Advanced
Extreme
Notecounts
234
477
708
336
336
336
340
340
-
-
-
-
GF6/dm5
24
40
76
37
51
67
N/A
N/A
-
-
-
-
GF7/dm6
↓17
↓31
↓62
↓15
↓34
↓59
N/A
N/A
-
-
-
-
GF/DM MASTERPIECE SILVER
15
36
67
25
35
63
28
33
-
-
-
-