SOUL EXPLOSION
Jump to navigation
Jump to search
Not to be confused with 霊魂爆砕 -SOUL EXPLOSION-.
SOUL EXPLOSION
Song Information
Artist: kanone
Composition/Arrangement: kanone
BPM: 150
Length: 1:52
First Music Game Appearance: SOUND VOLTEX BOOTH
Other Music Game Appearances: None.
Lyrics
None.
Song Connections / Remixes
A long version of SOUL EXPLOSION, titled SOUL EXPLOSION (Long Version), appears on the SOUND VOLTEX ULTIMATE TRACKS -FLOOR ANTHEM- EP.01 album.
Trivia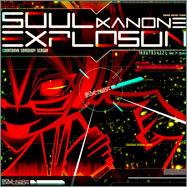 SOUL EXPLOSION is a song part of the BPM145-180 Only! Hi-Tension 4-beat Instrumental Original Song Contest (BPM145-180限定! ハイテンション4つ打ちインストオリジナル楽曲コンテスト). It was added to SOUND VOLTEX BOOTH on August 3rd, 2012.

Its charts can be purchased for 50 BLOCKS for ADVANCED, and 80 BLOCKS for EXHAUST.

The character in SOUL EXPLOSION's jacket is named SOUL SEKISHI (赤志 魂), but only his silhouette is drawn. He would not be fully drawn until the release of VISION.
SOUL EXPLOSION's jacket was originally misspelled as SOUL EXPLOSON, but had since been replaced with a new jacket with the corrected spelling.

However, the misspelling is still present on the new jacket, on the bottom left corner and within the circle at the center of the jacket.
Song Production Information
Untranslated.
Difficulty & Notecounts
SOUND VOLTEX BOOTH to III GRAVITY WARS difficulty rated from 1 to 16, and 1 to 20 from IV HEAVENLY HAVEN onwards. (Ratings and notecounts obtained from SOUND VOLTEX @ wiki.)
Game
Level
NOVICE
ADVANCED
EXHAUST
MAXIMUM
VIVID
Max Chain
478
676
957
-
-
Effected By
Megacycle
Megacycle
Megacycle
-
-
Jacket Artists
I>A<T
I>A<T
I>A<T
-
-
SOUND VOLTEX BOOTH→Present
4
9
13
-
-
SOUND VOLTEX III コナステ
4
9
13
-
-