ASTRO
Jump to navigation
Jump to search
ASTRO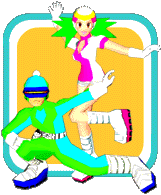 Character Information
Name: Cole McKenzie
Age: 24
Height: 174cm
Birthplace: Los Angeles
Likes: Online cosplay auctions, UFO related things
Hates: Hooligans
Introduced in: DanceDanceRevolution 3rdMIX
Backstory
ASTRO is usually a serious police patroller, but he gets a kick of being able to wear his favorite costume on the weekend. He has a career on cosplay for 20 years, so it has become an everyday affair. He formed a cosplay unit with CHARMY. Recently he has been having trouble with insomnia.
Trivia
Part of the FuturePatrol and POPS-sideB- duos, along with CHARMY.
His special skill is being able to stand still asleep while patrolling.
Song Appearances
This article is a stub. You can help complete this page by filling in missing information and/or by correcting any errors.