KAERU-ZUKIN
Jump to navigation
Jump to search
KAERU-ZUKIN
Character Information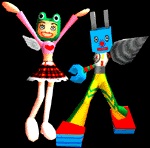 Name: OSHARE-ZUKIN:02 (おしゃれずきん2号)
Age: Unknown
Height: Unknown
Birthplace: Unknown
Likes: Unknown
Hates: Unknown
Introduced in: DanceDanceRevolution 2ndMIX
Backstory
Untranslated.
Trivia
"Kaeru" is Japanese for "frog".
Unlike other ZUKINS, KAERU-ZUKIN is OSHARE-ZUKIN in a frog motif and not a new ZUKIN altogether.
KAERU-ZUKIN's outfit is used in OSHARE-ZUKIN's sprite in pop'n music 8 as the rival character for CANDY♥.
KAERU-ZUKIN appears in the KONAMI PlayStation game Bishi Bashi Special 3 ~Step Champ~ (ビシバシスペシャル3 〜ステップチャンプ〜).
KAERU-ZUKIN appears in the music video of Kiss (When The Sun Don't Shine) by Vengaboys.
Song Appearances
None.
This article is a stub. You can help complete this page by filling in missing information and/or by correcting any errors.