DISK-BEINGS
Jump to navigation
Jump to search
DISK-BEINGS
Character Information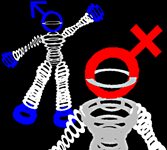 Name: DISK:A and DISK:B
Age: Unknown
Height: Unknown
Birthplace: Unknown
Likes: Unknown
Hates: Unknown
Introduced in: DanceDanceRevolution
Backstory
Untranslated.
Trivia
DanceDanceRevolution's official website refers to the DISK characters as 輪っか ("wakka", Japanese for "hoop").
The gender of the DISK-BEINGS can be identified by the symbol on their heads: male symbol (♂) in blue, and female symbol (♀) in red.
DISK-A and DISK-B are hidden playable characters in DanceDanceRevolution and DanceDanceRevolution 3rdMIX. In 3rdMIX, they are identified as DISK-BEING[S].
DISK-A and DISK-B appear in DanceDanceRevolution SuperNOVA2, but cannot be selected.
Song Appearances
None.
This article is a stub. You can help complete this page by filling in missing information and/or by correcting any errors.