うたっち
うたっち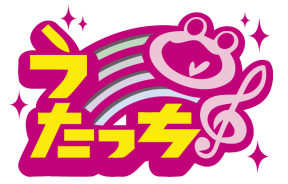 Release Information
Release Date: February 25th, 2010 (Japan)
Soundtrack release dates:

pop'n music 18 せんごく列伝 AC ♥ CS ポップンミュージック & portable & うたっち Original Soundtrack: July 21st, 2010 (Japan)

Retail value: 5,250 yen
General Information
Only BEMANI game for the Nintendo DS.
Features wireless multiplayer modes.
One of the few BEMANI games to allow pausing during gameplay.
Second and final pop'n music game developed by Hudson Soft.
Theme: Sweets
Gameplay
うたっち has a similar gameplay to pop'n music: there are 1/3/5 rows where colored notes fall from the top to the bottom. When the notes reach the bottom the player has to touch the notes with the Nintendo DS' stylus. Unlike pop'n music though, there are different type of notes:
Red notes: the player just has to touch the note.
Yellow notes: the player has to flick the stylus on the note.
Blue notes: the player has to hold down the stylus on the note during the note.
Green notes: the player has to scratch with the stylus during the note.
Each note correspond to a part of the vocals of the song. Each song has two difficulties: Easy (かんたん) and Hard (むずかしい), with the exception of 5-Line mode which has only Hard difficulty.
Staff Information
Song List
うたっち features 40 songs; 27 licenses and 13 KONAMI originals. No artists are listed in-game, and all licenses are covers.
Difficulty range based on a scale from 1 to 5 stars. For the sake of convenience for this site, each star equals one level on the list below. (Song list obtained from pmdream.net.)
Related Link
This pop'n music-related article is a stub. You can help complete this page by contributing to it.