beatmania 5thMIX -Time to get down-
From RemyWiki
This page is under construction.
beatmania 5thMIX -Time to get down-
Release Information
Release date: September 22nd, 1999
General Information / Changes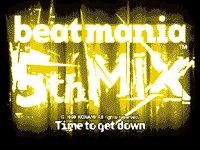 First beatmania game with Dancemania licenses, much like the DanceDanceRevolution series.
Combo is no longer counted. This was the last beatmania game where combo was not counted.
Flashing GREATs only appear in EXPERT mode. This is the only beatmania game where this is the case.
Songs are now displayed in a list on the right side of the screen, with their levels in a star to the left of their name.
First beatmania arcade title with hard version charts. DO IT ALL NIGHT, OPERATOR, THE ONLY WAY IS UP, THE RACE, and UP ON THE FLOOR have each a hard version chart that can be played during Stage 2 on Hard Mode.
Two modifiers were introduced:

SUDDEN, which causes the notes to appear in the middle of the screen.

HIDDEN+SUDDEN is now possible, which causes the notes to not appear at all. This was changed in beatmania THE FINAL, where the notes briefly appear in the middle of the screen.

HI-SPEED, which causes the notes to double the scrolling speed.

Isao Saito and Hiroaki Saito make their BEMANI debuts.
The beatmania 5thMIX ORIGINAL SOUNDTRACK contains not only the songs from beatmania 5thMIX, but also the songs from beatmania 4thMIX which had not been removed in 5thMIX.
Staff Information
Producer: Koji Okamoto
Executive Director: Seiji Higurashi
Director: Yuichiro Sagawa
Sound Director: fuji
Sound Supervisor: dj nagureo
Programmer: Yohei Marufuji, Hideki "Hx2" Hashimoto
CG Designer: KAERU
Graphic Designer: Noriyuki "BEDLAM" Yokoki, Mayu Sugiyama
Full Song List
New Songs
Since ANOTHER charts do not have separate ratings, they will be denoted with a check mark (✓).
EXPERT Courses
Codes & Unlock Information
Codes
All codes are entered on the title screen
Modifiers
MIRROR: Using key 6, spell out MIR in Morse code (--...-.)
RANDOM: Using key 10, spell out RAN in Morse code (.-..--.)
Song Unlocks
All songs
On the title screen, turn the 1P turntable clockwise once, and press 5-4-4-3-3-2-1-3-3-9-8-1 while doing this. Once you've turned the turntable 360 degrees, press Start.
LINN 1999
On the title screen, use key 7 to spell LINN in Morse code (.-....-.-.). Select the random option on the FINAL STAGE to play LINN 1999.
Secret EXPERT courses
On the mode select creen, highlight BASIC and press 1P Start. Then, highlight EXPERT, hold 1P Start, and turn the turntable clockwise twice. Let go of Start, and turn the turntable clockwise one more time.

This unlocks the SLAKE MIX, NAGUREO MIX and ANOTHER MIX courses. Note that the latter can't be played if the BATTLE modifier is on.
ANOTHER charts
Highlight a song with an ANOTHER chart, then select it by pressing 2, 3 and 4.
Removed Songs
The following songs from previous beatmania releases have been removed from beatmania 5thMIX.
Related Links
This article is a stub. You can help complete this page by filling in missing information and/or by correcting any errors.