beatmania completeMIX
From RemyWiki
beatmania completeMIX
Release Information
Release date: January 19th, 1999
General Information / Changes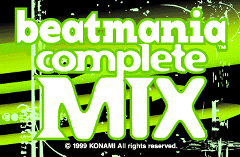 The first of two beatmania compilation mixes released. completeMIX has the full songlist from beatmania, 2ndMIX, and 3rdMIX, along with two entirely new songs and two English versions of older songs.
The last beatmania game not to count combo until 5thMIX. 3rdMIX, the base for completeMIX's engine, also counted combo.
Flashing GREATs now indicate a separate, more accurate judgment than regular GREATs.
The maximum money score for one song was increased to 200000 from 100000. GREATs are worth half the base note score, and the relationship between GOODs and GREATs is unchanged.
EXPERT mode is renamed INTERNET RANKING mode. After a course is completed, an INTERNET RANKING code is displayed, which could be entered at KONAMI's website.

The score counter in INTERNET RANKING mode displays EX score instead of money score.

Last beatmania game with PRACTICE mode.
Song titles are displayed on the music selection screen in addition to genres.
First BEMANI game worked on by CG designer Hotaru Matsuzaki, known then as MZD FIRE FLY.
Total number of songs: 44.
Staff Information
Full credits: beatmania completeMIX credits
Producer & Director: Koji Okamoto
Planner: MiZKiNG
Sound Director: Reo Nagumo
Composer: NITE SYSTEM, QUADRA, dj Mazinger, Crunky Boy, nouvo nude, Hiroshi Takeyasu, Reo Nagumo, Tomomi Ohta, Youhei Shimizu
Programmer: Hideki Hashimoto, Takayuki Fukunaga
CG Designer: MiZKiNG, Hotaru Komatsu, Gyo Eguchi, Hajime Yashiro (KCE Japan)
Graphic Designer: Noriyuki Yokoki
Full Song List
New Songs
Since ANOTHER charts do not have separate ratings, they will be denoted with a check mark (✓).
INTERNET RANKING Courses
New Charts
The following songs from previous releases have received new charts in beatmania completeMIX:
Since ANOTHER charts do not have separate ratings, they will be denoted with a check mark (✓).
Related Links