Hiroyuki Togo
Jump to navigation
Jump to search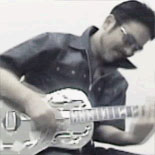 Hiroyuki Togo
Artist Information
Name: Hiroyuki Togo (藤後浩之)
Profile
Much like how Reo Nagumo sound directed the first ever BEMANI series beatmania, Hiroyuki Togo was the first sound director of its CS releases, starting with the 1998 beatmania APPEND YebisuMIX at KCEJ West. Togo played a large part of the sound of the early CS releases, providing lyrics, vocals, and guitars alike for many of the earliest CS beatmania titles. He also did several collaborations with Sanae Shintani. He was also the sound producer of the grand majority of the CS beatmania IIDX games up to beatmania IIDX 11 IIDX RED CS. He also served as the head sound producer of pop'n music 10 CS through pop'n music 12 いろは CS.
Togo left KONAMI in 2006, though he continued to appear in BEMANI titles as a commission artist until 2012.
Trivia
According to his comments in ゲームの達人, Togo's staccato two-F/-J aliases are based on the Japanese shibuya-kei band PIZZICATO FIVE.
Togo has a couple of tracks under his Studio Bongo Mango alias for Yudo Inc. games Aero Guitar and Aero Drum.
Togo arranged the song Battle at the Big Bridge for the Square Enix game Final Fantasy XIII-2.
Togo composed a song for NAOKI's music game CROSSxBEATS for CAPCOM - Touch of gold.
Togo produced the pop'n music Cafe music selection and pop'n music Cafe music Espresso albums, CDs consisting of pop'n music songs remixed to sound like songs you'd play in a cafe.
Aliases
Togo Project
Togo-chef
Studio Bongo Mango
UPA&NORA
CHEAP FOREST
ESPACIO BROTHERS
Herbie Hammock and His Band
staccato two-F / two-J (with Fabienne Haber and Sanae Shintani respectively)
The Ebisu Singers (singer, with Sanae Shintani)
Shine All Stars (part of)
TOGO.BAND
サドルシューズ (part of)
BEMANI Songs