beatmania IIDX 4th style -new songs collection-
Jump to navigation
Jump to search
beatmania IIDX 4th style -new songs collection-
Release Information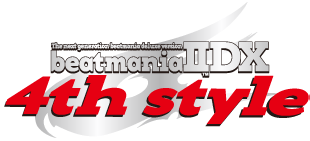 Release date: March 29th, 2001
General Information / Changes
First CS beatmania IIDX game to feature a post-song EX score change display, showing score progress.
First CS beatmania IIDX game to remember HS setting between Arcade Sessions.
First CS beatmania IIDX game with SURVIVAL MODE, in which you play every song in the game back-to-back, with a break every certain amount of songs.
First CS beatmania IIDX game with the -new songs collection- subtitle.
Only CS beatmania IIDX game to limit the returning songs to those which gained new charts in the arcade release.
Total songs: 53
Staff Information
Song List
Unlock Information
To unlock Original Course Setting, play every song at least once in ARCADE MODE.
To unlock Survival Mode, receive a grade of A or better on an Original Course.
To unlock Expert courses, play an available EXPERT course (excluding Original courses) and pass at least 3 songs to get the IR screen. Each course can only be used to unlock one other course at most.

The hidden courses are: TECHNO, 7 STARS, EURO, FLOWER, TURBO, HYPER, dj TAKA, MILLENNIUM, BONUS, L.E.D.

To unlock everything immediately:

Either achieve at least a 573 combo on any song in either ARCADE MODE or FREE MODE (autoplay disabled), and then clear the song.

Autoscratch is allowed, as it counts as a GOOD judgement, adding towards the combo count.
In EXPERT mode, having at least a 573 combo over multiple songs without having at least a 573 combo on a single song will not count. Once any single song is cleared with at least a 573 combo, everything will be unlocked, regardless if the remainder of the course was cleared or failed.

Or play ARCADE MODE 58 times.
Expert Courses
Bugs
Songs cleared in EXPERT will be marked with the yellow Passed status in ARCADE/FREE modes, regardless of score.
There is a double note on SANA MOLLETE NE ENTE -B.L.T. STYLE- L7 which is nearly impossible to hit properly. Even the computer auto-playing the song cannot hit it properly.
Related Links