Akira Yamaoka
Jump to navigation
Jump to search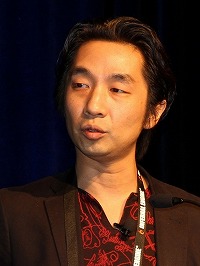 Akira Yamaoka
Artist Information
Profile
For 15 years, Akira Yamaoka was one of the biggest composers at KONAMI. Getting his start with the company as an additional composer on KONAMI games such as Sparkster in 1994, Akira really broke out when he became the music composer for the 1999 PlayStation game Silent Hill, which received accolade at the time for its gameplay, and especially its soundtrack. Akira continued to compose for all later games in the franchise, becoming so synonymous with the franchise that he even became its producer in later years. He continued to compose for the series up to the 2009 game Silent Hill: Shattered Memories, which was released right before his departure from KONAMI. Akira also worked on the soundtracks to SHIN Contra, the third game in the Winning Eleven series, the RUMBLE ROSES series and OTOMEDIUS G.
In BEMANI Akira was best known for his work in the beatmania IIDX series, his music style ranging everywhere from techno, industrial, trance, minimal, rave, and even J-POP. He even released an album of mostly BEMANI material, iFUTURELIST in 2006. Akira was also for years active in pop'n music, and even contributed a bit to DanceDanceRevolution.
In December 2009, Akira Yamaoka left KONAMI [1]. He currently works for Japanese video game company Grasshopper Manufacture, where he continues doing video game soundtracks to this day.
Trivia
Aliases
BEMANI Songs
Discography
Albums