beatmania IIDX 5th style
Jump to navigation
Jump to search
beatmania IIDX 5th style
Release Information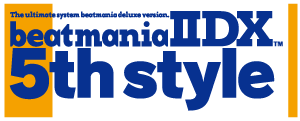 Release date: March 27th, 2001
Soundtrack release date:

beatmania IIDX 5th style Original Soundtracks: June 27th, 2001
General Information / Changes
First style to contain what would become Flashing 7's, labeled with a kanji meaning "Forbidden".
First style with AUTO-SCRATCH, which hits all scratches for you.
First style where Single and Double charts for songs are individually rated from one another.
HI-SPEED now goes from HI-SPEED 1 through 3.
First style to differentiate new and old songs prior on the splash screen, which remained standard until beatmania IIDX 20 tricoro.

New songs have white backgrounds, while the genre, song name, and artist name are in black text.
Old songs have black backgrounds and white text.

Last style to display vinyl records on music select.
beatmania IIDX 5th style was released the same day in arcades as DanceDanceRevolution 5thMIX, marking the second time that both an arcade beatmania IIDX and an arcade DanceDanceRevolution game were released on the same day. The first time was when beatmania IIDX substream and DanceDanceRevolution 2ndMIX AND beatmania IIDX substream CLUB VERSiON 2 debuted on the same day on July 27th, 1999.

Several songs are shared between the two games, though each is treated as part of its respective franchise and not as from both games.

Jun Wakita makes his BEMANI song debut in this game.
Tomoyuki Uchida makes his first beatmania IIDX song appearance in this game.
Slogan: IIDX OF THE NEW CENTURY
Total songs: 115
Staff Information
Full Song List
Default Songs
Hidden songs
Expert Courses
Code
beat#2
Enter the test menu, select the GAME SETTINGS menu, hold 2P Start and press 1-1-2-2-6-6-7-7-5-4-3 on the 2P side. This unlocks the five hidden songs, and the three hidden EXPERT courses.
New Charts
The following songs have received new charts since their last arcade appearance:
Difficulty Changes
Since almost every previous beatmania IIDX song got re-rated in 5th style, this section has been moved to its own page.
Revived Songs
The following songs from previous beatmania IIDX releases have been revived:
Removed Songs
The following songs from previous beatmania IIDX releases have been removed:
Related Links