Thomas Howard Lichtenstein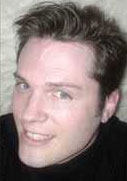 Thomas Howard Lichtenstein
Artist Information
Profile
Thomas Howard Lichtenstein is a long-time vocalist for BEMANI, mainly known for his songs in the GuitarFreaks & DrumMania series. He's also the announcer in several early GuitarFreaks & DrumMania titles, but is incorrectly credited as an early announcer in the DanceDanceRevolution series. Outside of BEMANI, Thomas has composed several of his own albums.
Thomas currently lives in Japan, having moved there in 1995 after marrying his sweetheart Megumi.
He has also written children's books.
Aliases
CAPTAIN.T
LOVE MACHINEGUNS (vocalist)
Monoral Heads (with Toshio Sakurai composing)
Orange Lounge+ (additional vocals)
Sweet little 30's (with Hideyuki Ono composing)
Thomas
Thomas' Family (with daughters Jennifer Miyabi Lichtenstein and Angelina Tamaki Lichtenstein)
Thomas Howard
Tommy-T
Trivia
On the words of Thomas on how he first started working for KONAMI: "I first worked for Konami on the first Drummania game. It was in the summer of 1999. A friend of mine gave my number to some Konami musicians; they were looking for local vocalists to record some of their new music for the first Drummania. I sent in a demo tape, and I also found a few other foreign (non-Japanese) vocalists living in the area and got them to send in demos as well. They chose me and one other (Elizabeth Dobbs) to sing on several songs. I also mentioned that I write a lot of lyrics, and they let me try my hand at it. They seemed pleased with the results, so I've been hired to write lyrics quite a bit since then -- even for other vocalists."
From his debut until GITADORA, GuitarFreaks V2 & DrumMania V2 was the only arcade GF/DM game Thomas did not write or sing a song for.
BEMANI Songs
This article is a stub. You can help complete this page by filling in missing information and/or by correcting any errors.