Thomas Howard Lichtenstein
From RemyWiki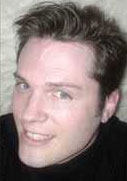 Thomas Howard Lichtenstein
Artist Information
Profile
Thomas Howard Lichtenstein is a long-time vocalist for BEMANI, mainly known for his songs in the GuitarFreaks & DrumMania series. He's also the announcer in several early GuitarFreaks & DrumMania titles, but is incorrectly credited as an early announcer in the DanceDanceRevolution series. Outside of BEMANI, Thomas has composed several of his own albums.
Thomas currently lives in Japan, having moved there in 1995 after marrying his sweetheart Megumi.
He has also written children's books.
Aliases
CAPTAIN.T
LOVE MACHINEGUNS (vocalist)
Monoral Heads (with Toshio Sakurai composing)
Orange Lounge+ (additional vocals)
Sweet little 30's (with Hideyuki Ono composing)
Thomas
Thomas' Family (with daughters Jennifer Miyabi Lichtenstein and Angelina Tamaki Lichtenstein)
Thomas Howard
Tommy-T
Trivia
BEMANI Songs
This article is a stub. You can help complete this page by filling in missing information and/or by correcting any errors.