beatmania 3rdMIX
From RemyWiki
beatmania 3rdMIX
Release Information
Release date: September 28th, 1998
General Information / Changes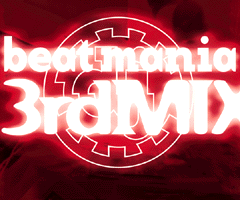 First beatmania game to keep track of your combo count.

Only beatmania game where GOODs break your combo.
GREATs flash if you have more than 10 combo, but this gives no bonuses.

Totals for each judgment are now displayed on the results screen after each song.
A grade screen identical to the EXPERT screen is now displayed after completing any mode.
NORMAL and EASY modes are now available. The two modes differ in which songs can be chosen and when.
Three new modifiers were introduced:

BATTLE, which allows two players to play the same exact chart, instead of a split chart as in regular versus mode.
MIRROR, which inverts the notechart (besides the scratches).
RANDOM, which randomizes the notechart of the song you're playing (besides the scratches).

First BEMANI game worked on by Gyo Eguchi (VJ GYO), who became the chief movie designer of beatmania IIDX a few months later, a position he still holds to this very day.
First BEMANI game released with the 1998-2003 KONAMI logo on the start-up screen.

However, the cabinet itself still shows the 1986-1998 Italicized KONAMI logo.

beatmania 3rdMIX was released the same day as pop'n music, marking the first time two BEMANI games were released the same day in the arcades.
Staff Information
Full credits: beatmania 3rdMIX credits
Producer & Director: Koji Okamoto
Planner: MiZKiNG
Sound Director: Reo Nagumo
Composer: NITE SYSTEM, QUADRA, dj Mazinger, Crunky Boy, nouvo nude, Hiroshi Takeyasu, Reo Nagumo, Tomomi Ohta
Sound Data Analyzer: Ryuichi Nitta

Programmer: Hideki Hashimoto, Youhei Shimizu (Sound Tool Programmer)
CG Designer: MiZKiNG, Gyo Eguchi, Hajime Yashiro
Graphic Designer: Noriyuki Yokoki
Full Song List
New Songs
Since ANOTHER charts do not have separate ratings, they will be denoted with a check mark (✓).
EXPERT Courses
If the courses are played with two players, the alternate songs or versions are used instead of the originals.
New Charts
The following songs from previous releases have received new charts in beatmania 3rdMIX.
Since ANOTHER charts do not have separate ratings, they will be denoted with a check mark (✓).
Removed Songs
The following songs from previous beatmania releases have been removed from beatmania 3rdMIX.
Related Link