DanceDanceRevolution Mobius
Jump to navigation
Jump to search
DanceDanceRevolution console releases
DanceDanceRevolution Mobius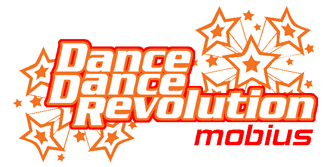 Release Information
Release date: October 15th, 2008.
Platform: Mobile phones (Java)
General Information / Changes
Several versions of Mobius were released for different cellphones. One version included online play and downloadable songs.

In this online version, only BASIC and DIFFICULT charts are available at first. EXPERT charts can be unlocked once every available difficulty is cleared.

All songs are in MIDI format and weren't composed by BEMANI artists.
Uses a Dance Power system, where different power-ups can be used by scoring good on a song.

In the online version, power-ups have to be unlocked.

Background animations consist of a dancer in a different backdrop each time.
Freeze arrows have to be released, instead of holding them until the end.
Staff Information
Song List
Pack 1
These songs are the only songs available for play in any version other than the one with online play and DLC.
Pack 2
Pack 2 can be accessed once every difficulty in Pack 1, including EXPERT, is cleared. The songs in Pack 1 will be replaced by the ones in Pack 2 and can be changed anytime.
Related Links
None.
This article is a stub. You can help complete this page by filling in missing information and/or by correcting any errors.