GOLDEN CROSS
Jump to navigation
Jump to search
GOLDEN CROSS
Song Information
Artist: dj REMO-CON VS dj TAKA
Composition/Arrangement: dj REMO-CON, dj TAKA
BPM: 150
Length: 2:01
Genre: TECHNO
pop'n music Character: スーツ対モリー [CS12-1P]
VJ: ackermann
First Music Game Appearance: beatmania IIDX 14 GOLD CS
Other Music Game Appearances:
Lyrics
None.
Song Connections / Remixes
Trivia
The show title seen at the beginning of GOLDEN CROSS' video says Kyou no Shogi or Today's Shogi, which mimics a format commonly used in Japanese TV shows.
dj TAKA and dj REMO-CON appear as the TV commentators in the movie, with KAGE appearing as the shogi master. DJ Yoshitaka appears as the judge/timekeeper. Japanese Akiba idol Kiyoa Imari appears as the round announcer and TOCHI or JONY.C appears as the shogi challenger.

The fan mentioned in the video production notes (see below) that KAGE is holding says "Full Combo" (when translated into English).
U1-ASAMi did the supervision of the record of the shogi game.

GOLDEN CROSS is one of the PARALLEL ROTATION GOLD EXTRA STAGEs in beatmania IIDX 17 SIRIUS.
At some point, GOLDEN CROSS appeared on a Pump It Up hacked cabinet, which led some fans to believe that dj TAKA had resigned from KONAMI and went to work on Andamiro. This was later proven untrue.
GOLDEN CROSS is one of the few PARALLEL ROTATION songs that has yet to appear in beatmania IIDX INFINITAS.
GOLDEN CROSS is the second GOLD STAGE unlock of the NAVIfes (ナビフェス) unlocking system. It can be unlocked in pop'n music うさぎと猫と少年の夢 from March 22nd, 2018.

As of November 19th, 2018 in pop'n music peace, it is available by default.
GOLDEN CROSS being crossed over marks Tetsuya Tamura's first appearance in the pop'n music series.
Music Comment
None.
Song Production Information
Remo-con
Hey, this is my first collaboration with dj TAKA!
To tell the truth, even with my musical experience, this was a beginner's experience for me.
Using a microphone for mixing, we recorded an effective sound which I feel you will not forget the tension of the song, under any circumstances.
---
TAKA
One DJ in the world represents the techno sound of Japan, Remo-con. If it is possible, I feel that this is a great honor to be working with him. To all the users who requested this, I thank you!
If you have any questions about the completion of this song, I am happy to hear it. You will hear it in any case!
And, just looking at the movie (laughing)
Video Production Information
ackermann
During a certain cold and quiet winter night, a certain dj asked, "We would like you to make a movie. The theme we would like has to do with shogi, is that alright?"
At first, I thought that it was a joke, but they were actually serious about it.
"So, who do you want to direct it?"
The dj then hit my shoulder may with such severe force.
What -!? Me -!?
"All right! All right!"
The dj had a smiling face.

After all, it was serious.

VJ GYO and kototoi participated in the filming stage, using the IIDX director's home. Kiyoa Imari was filmed, along with DJ Yoshitaka, dj Remo-con, and dj TAKA. It was a tremendous effort, although writing the letters on the fan for the secondary editor was a bit tough. U1-ASAMi helped with the recording for this. And despite all of the excessive effort I asked from all of you, you all showed a splendid performance, especially the two producers and the programmer. You all made this movie possible. I want to send my greatest appreciation with all my heart.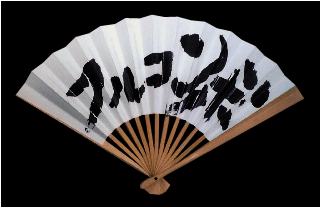 Although it was made, the Japanese fan did not make much of an appearance in the film.
Character Information
None.
Difficulty & Notecounts
beatmania IIDX difficulty rated from 1 to 12.
pop'n music difficulty rated from 1 to 50 from Sunny Park onwards. (Ratings and notecounts obtained from BEMANIWiki 2nd and Textage.cc.)
beatmania IIDX
Game
SP Difficulty
DP Difficulty
BEGINNER
NORMAL
HYPER
ANOTHER
LEGGENDARIA
NORMAL
HYPER
ANOTHER
LEGGENDARIA
Notecounts
-
559
1072
1765
-
619
970
1529
-
beatmania IIDX 14 GOLD CS
-
4
9
12
-
6
8
12
-
beatmania IIDX 17 SIRIUS→20 tricoro
-
4
9
12
-
6
8
12
-
beatmania IIDX 21 SPADA→Present
-
↑5
9
12
-
6
8
12
-
pop'n music
Game
Standard
Battle
Easy
Normal
Hyper
EX
Normal
Hyper
Notecounts / Long pop-kun
198 / 3
540 / 11
941 / 14
1385 / 11
497
-
pop'n music うさぎと猫と少年の夢→Present
15
30
41
48
24
-