Nanahira
Jump to navigation
Jump to search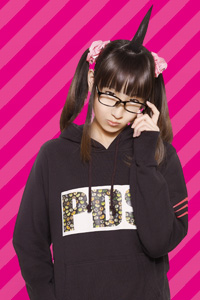 Nanahira
Artist Information
Profile
Nanahira (ななひら) is a vocalist known for her very high, childish singing voice. While she's best known for her denpa songs, she has also ventured into J-POP and even rock on the occasion.
Debuting in 2008, Nanahira began performing covers of VOCALOID songs in niconico. Since then, she has released several of her own original albums under her own circle Confetto, and has become one of the bigger names in the denpa scene. She's also performed duets with other denpa vocalists like Koko and Momobako, and on occasion even non-denpa vocalists like Yukacco and Nana Takahashi.
Nanahira can often be found on several Touhou arrangement compilations released by Halozy, IOSYS, and various other circles. Lately, her circle has been focused on SOUND VOLTEX artists and members of HARDCORE TANO*C, inviting them to compose songs for her albums. She's also heavily affiliated with Camellia; the two frequently work together on songs in and out of BEMANI, and have released several collaboration albums.
Trivia
Nanahira has also provided the voice for Verdi in Andamiro's CHRONO CIRCLE.
Aliases
ななひら
末広アンテナ (with Iku Arino)
ツマミ戦隊 タテレンジャー (member of, as タテレンジャーピンク)
BEMANI Songs
Discography
Albums
KEMOLOVE♥ (2012)
ときめき☆アンサンブル (2013)
Free Pl@ying (2013)
プチリズム7♭ (2013)
もーっと☆ちっちゃいのっ! (2013)
ときめき☆アンサンブルVol.2 (2013)
らぶちゅ! (2014)
KiraKira*Fräulein (2014)
らぶちゅ!2 (2015)
Colory Starry (2015)
Meltical sugar wave (2015)
Candy time (2015)
La La Fav! (2016)
Wonder trick (2016)
Secretale (2016)
Apprism (2017, as pom'metto with Koko and Momobako)
Confetti-Box (2017)
Nanairo Ribbon (2018, with nayuta)
トリップ×フロリック (2019)
ななめが王国 (2019, with mega)
Midnight Future (2019)
To be shining! (2020, with HANAYU)
いろは七不思議探訪記 (2021)
rond de lumière (2021)
Say Cheese! (2021, with Korone Pochi)
Screamin' Showcase (2021, with t+pazolite)
VOTRE CHÂTEAU (2022)
Lovelicot
Primary*Step (2016)
Twin Crew Star (2018)
EPs
Lovelicot (2015, as Lovelicot with Koko)
Cunetry☆Century (2016, as pom'metto with Koko and Momobako)
Pinky Blossom (2018)
Covertly shine (2018)
Merrily night (2018)
Snowy heart (2018)
Singles
Shuwa*Shuwa Parfait (2019)
Berry Pop / Sweet Berry Love (2021)
FULLFLAVOR ONDO (2022, with かめりあ)