pop'n music 12 いろは
Jump to navigation
Jump to search
pop'n music 12 いろは
Release Information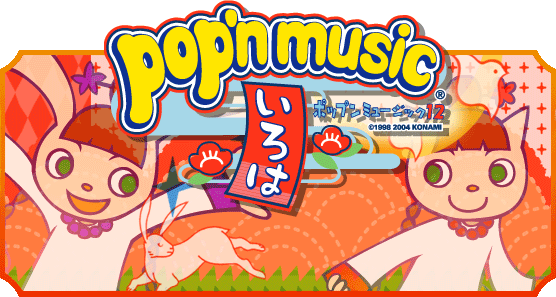 Release date: December 8th, 2004.
Hardware: BEMANI Python 1
General Information / Changes
Theme: Japan, holidays (unlock system)
NET対戦モード (NET Taisen Mode) makes its first appearance, in which you battle two opponents online for the highest score, using modifiers to throw each other off.
First pop'n music game to show you your best score in a song before playing it.
First pop'n music game to have preview music clips for songs.
beatmania IIDX composers DJ Yoshitaka, Akira Yamaoka, and Ryu☆ make their pop'n music debuts, as does GuitarFreaks & DrumMania music composer Yoshihiko Koezuka.
Reiji Sakurai, a recent singer under Konami's music label back in 2004, makes his BEMANI debut in this game.
Last BEMANI game to feature original songs by Tomonori Ikeda.
All Atsushi Shindo songs have been removed.
In a rarity for the franchise, several of pop'n music 12 いろは's characters' animations were done separate from the main staff, either done by Japanese animation studio Production I.G or involving some of the animation staff of the then recently released Silent Hill 4: The Room.
One of the very few pop'n music arcade games to not have any difficulty changes for any of the arcade originals from the previous game.
System BGM is composed by Seiya Murai.
eAMUSEMENT support for pop'n music 12 いろは ended on October 31st, 2005.
Total songs: 474
Staff Information
Full Song List
Default Songs
pop'n hiden ninpouchou (ポップン秘伝忍法帖) feat. Ninja Hero Shinobian / Ninja Heroine Shinobianko
pop'n music 12's unlocking systems involves Shinobian, first seen in pop'n music 8 (the song NINJA HERO even plays in the background). The unlock system is very simple: play through any mode in the arcade, and you will rank up Ninja Points. Shinobian will try to throw his shriuken on one of several scrolls under a small time limit. All you have to do is simply press the Red button at the time one of the 4 scrolls passes by the screen, each representing a different season: spring, summer, fall, and winter. Once you hit a scroll, you'll see a picture slowly unroll from that scroll. Once it unrolls all the way, you unlock that song. Be careful not to hit a brown scroll: you get absolutely nothing if you do.
About halfway through Shinobian will be replaced by Shinobianko, the female ninja from NINJA HEROINE via a special scroll. The music will also change to that of her theme though the unlocking system doesn't change when you get her. Once you fully complete the spring, summer, fall, and winter scrolls, one final, black scroll will pop up: hit that and fully unravel it to unlock HELL 12. You'll also unlock all the EXs for the songs new to Iroha once you do. The unlocking system event lasted from March 2nd, 2005 to April 13th, 2005 in Japan, both times at 3:00 P.M.
Songs are listed in unlock order by season.

* 忍びアン子は恋の呪文's BPM is different on each difficulty. 5-Button & Normal = 170, Hyper = 170? (42-740) & EX = 170? (74-740).
New Charts
The following songs have received new charts since their last arcade/console appearance:
Genre
Song title
Artist
pop'n 12 Folder
BPM
Character
Standard
Battle
5 Button
Normal
Hyper
EX
Normal
Hyper
New Charts
AMERICA
STAR TREK
♪♪♪♪♪
TV (pop'n music 6)
102-134
Mimi [TV&ANIME-AMERICA]
-
-
-
27
-
-
KINNIKUMAN
炎のキン肉マン
串田アキラ
ANIME (pop'n music 10/ANIMELO)
161
OTOKO-MAN [TV&ANIME]
-
-
-
32
-
-
SAINT SEIYA
ペガサス幻想
山田信夫
ANIME (pop'n music 10/ANIMELO)
170
Nyami [TV&ANIME-SAINT SEIYA]
-
-
-
34
-
-
Removed Songs
The following songs from pop'n music 11 have been removed:
Difficulty Changes
The following song has received difficulty changes since its last console appearance:
Song Title
Genre
pop'n 12 Folder
Standard
Battle
5 Button
Normal
Hyper
EX
Normal
Hyper
うぐいす
TWEET
PnM CS (CS 9)
-
17→15
-
-
-
-
Related Links